A solar-powered bicycle shown here towing a 300W rigid solar panel. It can also power external equipment and fill most of the needs of a small house. A 48V lead acid battery pack provides energy storage. System not fully complete at present. The panel can tilt toward the sun to provide more energy.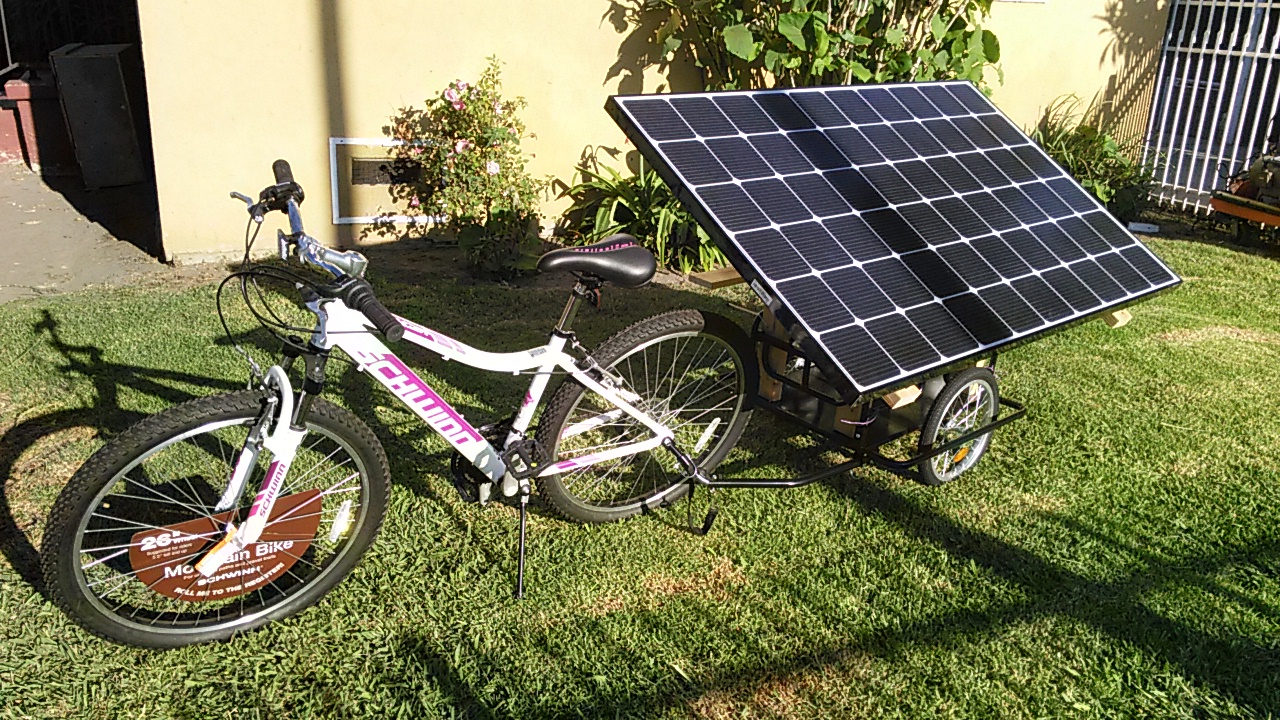 The top view of a fairly large RV solar installation with six panels of about 300W each. Two of the panels had to be mounted on wooden stilts due to space considerations.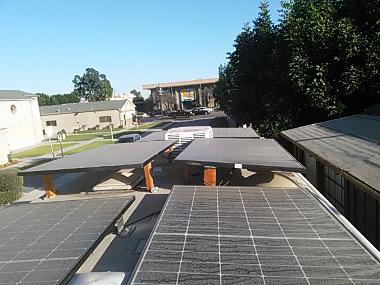 The above installation seen from the inside. It includes:
A 4000W pure sine inverter
An MPPT, 60A solarcharge controller
Two circuit breakers
A resettable battery fuse (not shown)
A 12V, twelve battery, 95AH per battery, power pack stowed away underneath the bed
A terminal strip for connection of the various components
Connection to the central electric system in the RV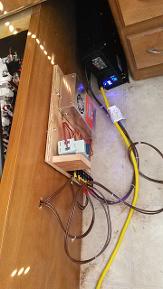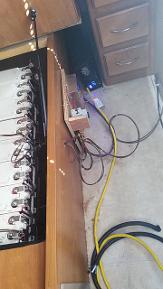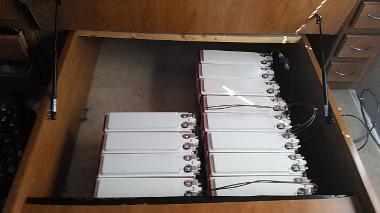 One of several charge controller control panels we offer. This one includes a fuse box, a 60A MPPT solar charge controller, circuit breaker and a terminal strip for connecting solar panels, batteries and inverter.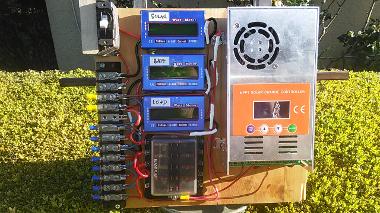 Here is a dual panel, ground-mounted set of 300W panels for a maximum capacity of 600W. It can be moved to track the sun, either sliding on the ground or mounted on casters for hard surfaces. The panels' tilt angle can vary. The cheapest method of panel installation.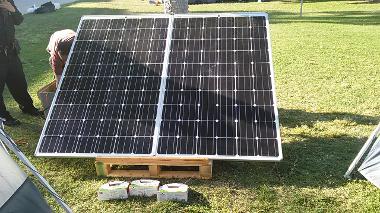 A ground-mounted 300W solar panel on wheels to track the sun. It provides electricity for a 550 sq. ft. bungalow. Loads include:
A chest freezer to be converted to a fridge
An 1800W induction stovetop cooking unit
LED & incandescent lights
A laptop
A cable, visible to the right of the picture, feeds power to the MPPT charge controller (black box in the lower picture) in the bungalow.
The blue LCD displays in the lower picture monitor currents, voltages and wattages to/from the solar panels and the batteries. The two red switches connect the solar panel and battery to the charge controller.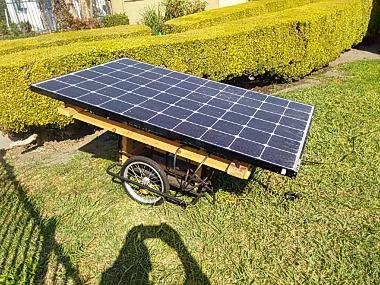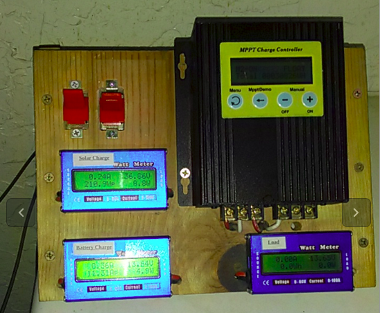 A PWM charge controller with a 75W panel and a 12V 20AH battery (not shown). It provides a battery voltage readout, USB cell phone chargers and dimmable LED lights controlled by the dimmer visible in the picture. Protection and safety are assured by means of two fuses.